Minecraft Publishers & Creators
We want to help creators succeed.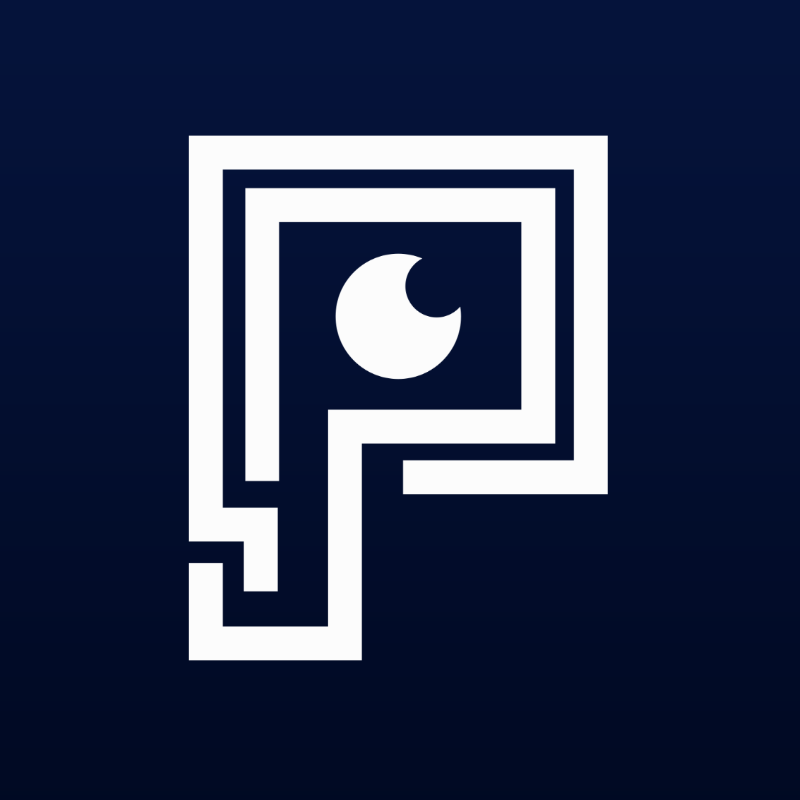 About
Originally a small group of enthusiasts Minecraft content creators, Pixelusion has evolved into a publishing company with the goal of giving YOU the opportunity of seeing your content live on the Marketplace, and helping you succeed!

The support you need
We assist you throughout the development of your content, taking care of all the publishing and secondary tasks so that you can focus on the most important thing: creating the content itself.

A powerful infrastructure
No time wasted on tedious tasks thanks to our various state-of-the-art tools. Lay back and watch everything being done automagically! Everything is in one single place.
Learn More…

A fair deal
Earn the royalties you deserve! Our creators receive a monthly royalty of 80% of the earnings of all of their released contents. We succeed when you succeed.
Our Creators
TESTIMONIES

Anizeng
Manager of Team Potion
This company could be the one that has given me the best publishing services ever, I'm very happy that we could work together and I'm excited about what I'll be able to do in the future with Pixelusion.

If you're looking to turn a map idea into reality Pixelusion is the best place to do that. With an amazing group of people to help you with everything from building to mechanics and a fantastic web based platform to submit and track your maps growth, I would recommend Pixelusion to anyone wanting to publish on the Minecraft Marketplace.

Currently, my life project is to become a digital nomad, i.e. to work 100% in freelance and remotely, while traveling. And Pixelusion is the perfect opportunity to seize if I want to live the way I want.

We are super proud to be part of Pixelusion and have the opportunity to share our content on the Minecraft Marketplace!

Juan David Varón Bravo
Co-CEO of Cube Planet
The experience we have had with Pixelusion has been wonderful, it is one of the few teams that provides that quality of attention, the speed with which they review the content has pleased us too much, they always answer all your questions and even advise you and help you in everything you need to be a good content creator. We are very grateful.

Raaix
Manager of ArkitexStudio
As a new team in this wonderful community, Pixelusion has continued to be very supportive in every way possible. I can say that they are great content creators and support regardless of any new team that wants to enter this beautiful community.

I have published my content on the Marketplace for the first time with Pixelusion. To be honest I didn't know how to post content but it took me no time to learn because Pixelusion has a perfect web panel. Everything is perfect and straightforward. It is obvious that they care about content creators. They solve our questions and problems quickly. I haven't posted much content yet, but I am very satisfied with everything so far, thank you!

It was thanks to Pixelusion that I was able to start creating content for Minecraft, which was a big dream for me. Both the content creators and the Pixelusion team brought me their knowledge, allowing me to develop quickly and freely. I will gladly continue to work with Pixelusion for as long as possible!
 Read More…
Our Infrastructure
With efficiency, user-friendliness and transparency in mind, we have set up an infrastructure and developed a suite of tools allowing our creators to have full focus on producing content.
Night mode (try me!)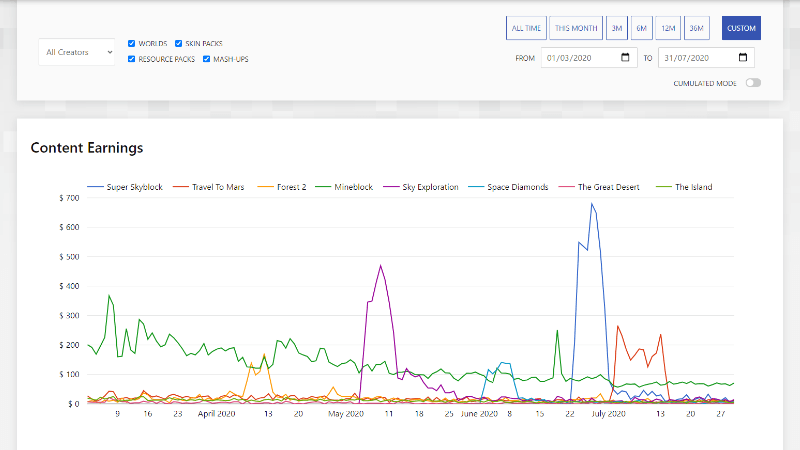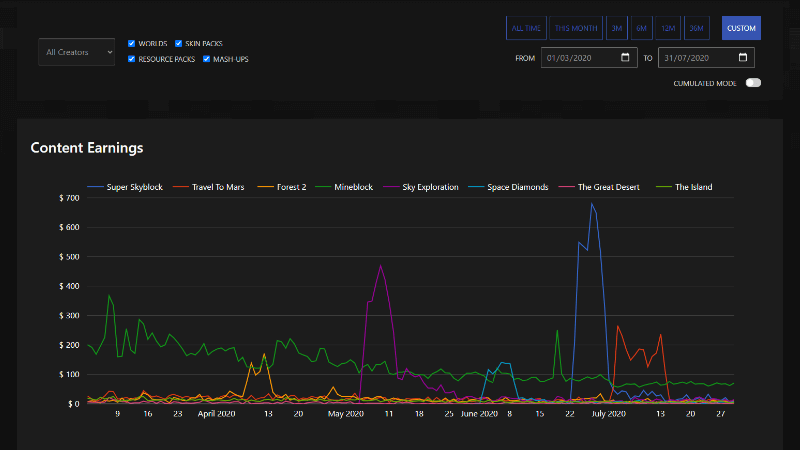 Fancy Statistics
Keep track of your earnings with always up-to-date statistics and a complete filtering system, so you could know how your contents are performing and establish business strategies.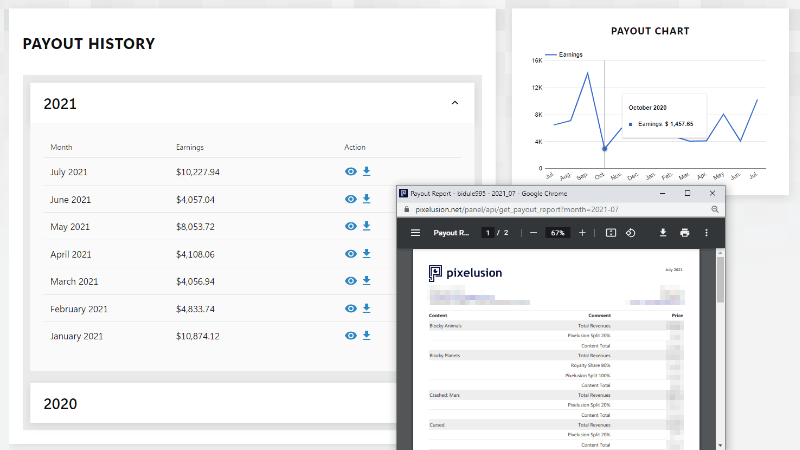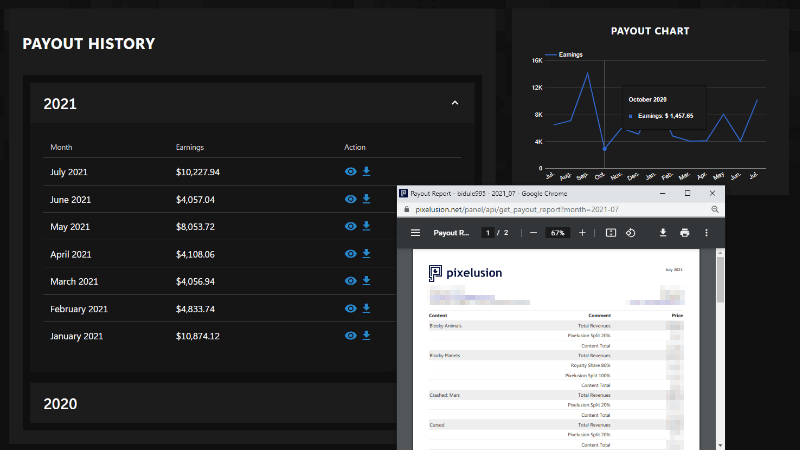 Transparent Earnings
Know exactly what you have earned each months with detailed reports you can preview and download; no human error there, everything is computer-generated.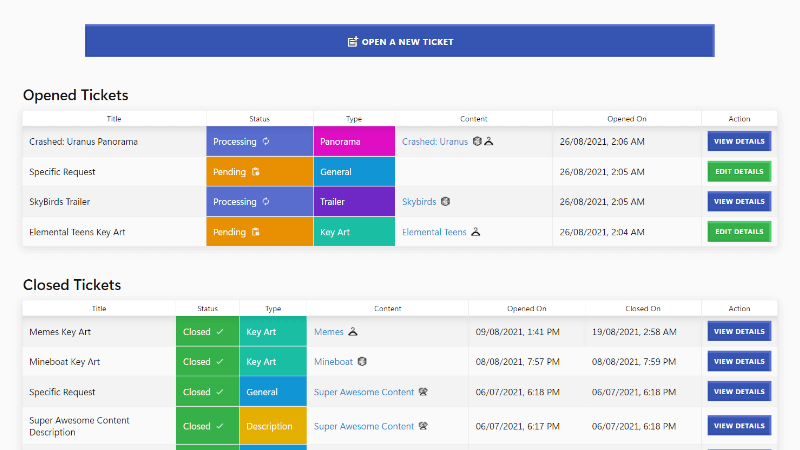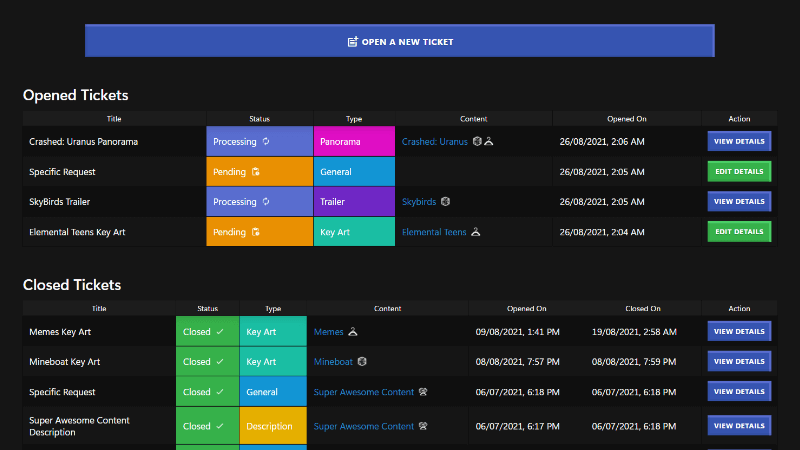 Advanced Ticketing System
Make requests to our team and follow its status in real time! None is falling through the cracks, each request is logged by the system and processed by the staff.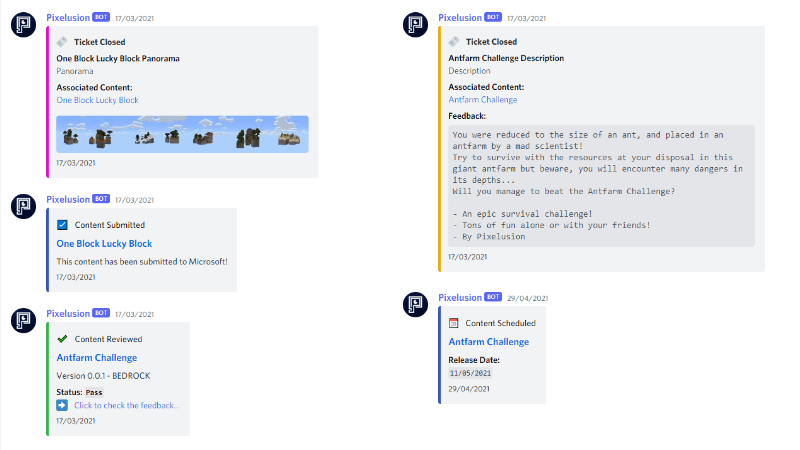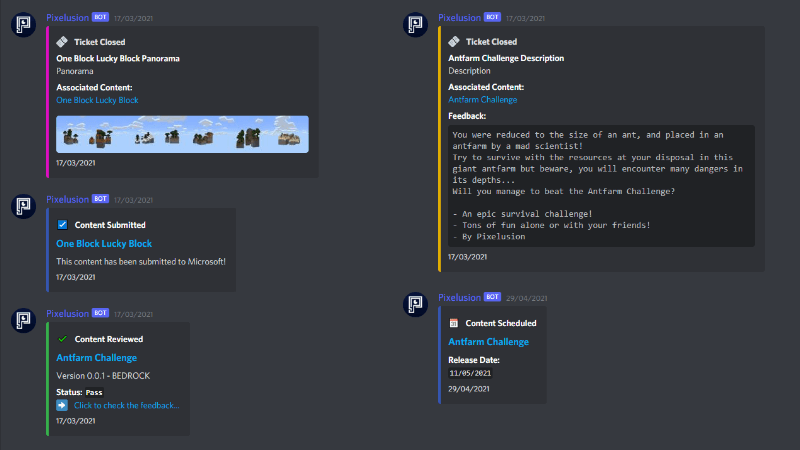 Discord Integration
Our system features an automatic notifications and alerts system via a Discord Bot, to make sure you are aware every time something exciting is happening with your contents.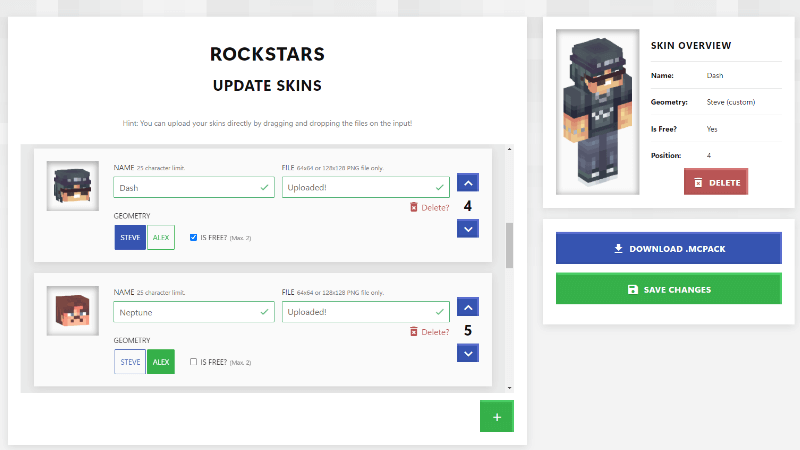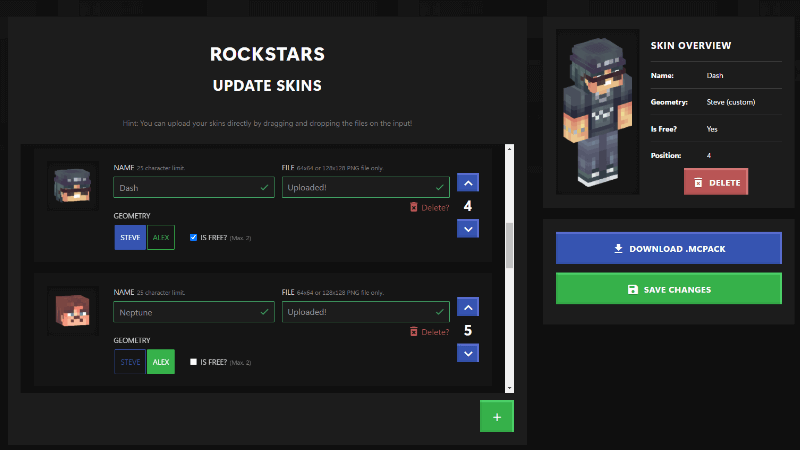 Packaging Tools
No packaging knowledge required, our software is handling all the time-consuming labour. After filling in the content details, everything is done in one single click!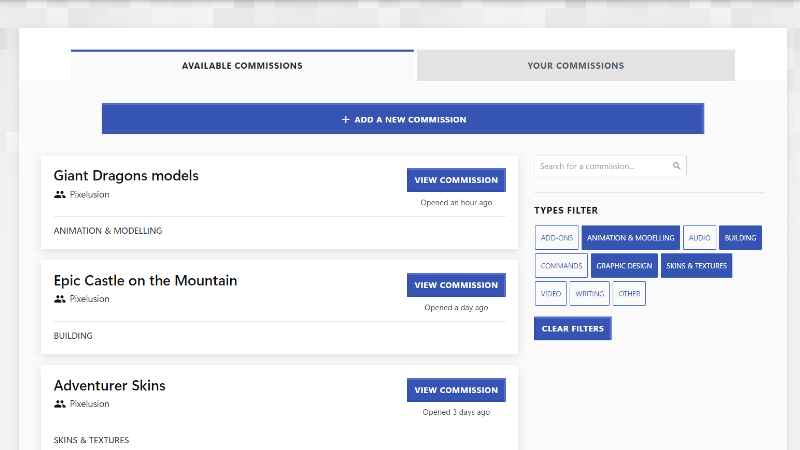 Commissions Platform (WIP)
Find other creators to work with by offering your skills or seeking for specific services using our internal commissions platform. No payment or royalty share payment to manage yourself.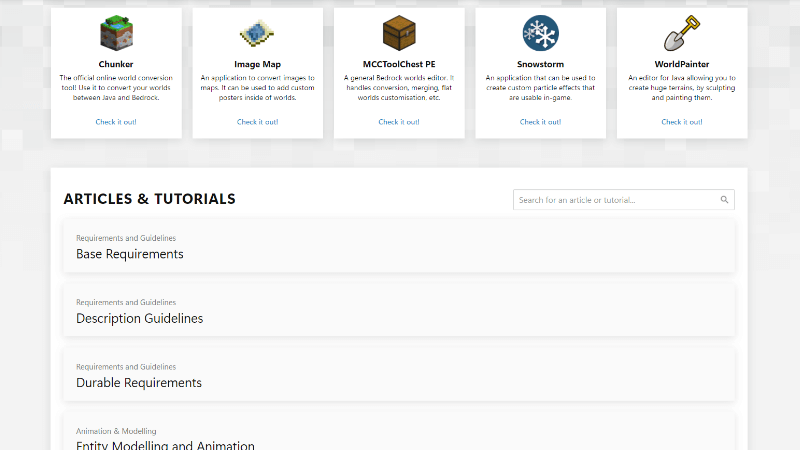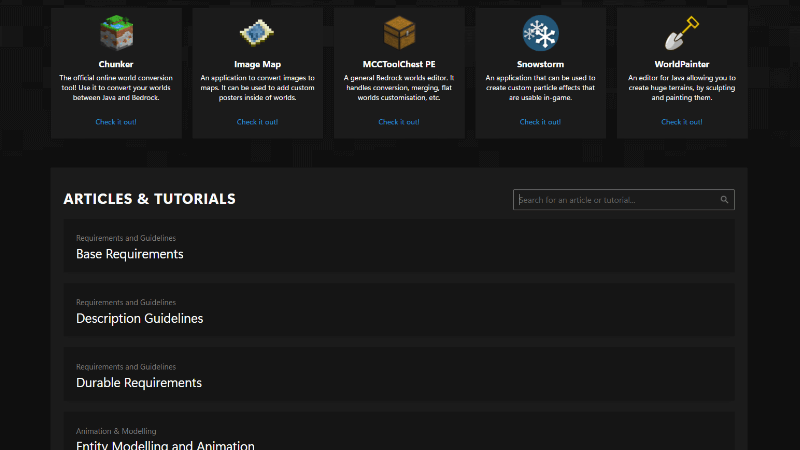 Complete Documentation
Constantly develop your knowledge and find answers to your interrogations from an ever growing documentation on content creation.